We heard the Word, and the Word was electrifying!
In fact, we heard lots of fine words from Scritti Politti, all delivered in lead singer Green Gartside's smooth, layered, melodic tones. The live music scene has been on its bottom for the past 18 months, so hundreds of us were desperate to get up and do something Covid-defying (safely, of course!) inside Norwich's wonderfully atmospheric Waterfront venue — and we had an absolute blast.
At times it felt like we were inside the Top of the Pops studio circa 1985. There was something about the proximity to the stage, the lighting, the vibe, and of course the music.
Scritti were excellent. Green is now unrecognisable from the 'playboy philosopher' look of those many Smash Hits covers. There's no luxuriant blonde locks and flowing white linen. He's tall, bearded, and carries the same air of controlled manic creativity as actor Michael Sheen.
I had no idea what Green would be like. I'd half expected someone quite shy, but he had an excellent stage presence. His spoken delivery is quite reminiscent of Sheen, too, and so it was quite unexpected when he kicked off the set with The Sweetest Girl (1981), and his singing voice is completely unchanged from when the song was first released. I'd expected a gruffness to have developed in his voice, but if you closed your eyes you'd think it was the young Green singing.
They warmed up the audience with a couple of other Scritti hits, including 1988's masterful Oh Patti (Don`t Feel Sorry For Loverboy), before kicking off the Cupid & Psyche 85 album with track 1 The Word Girl. 
I've been a Scritti fan for many years, and played that album regularly, but there was something quite surreal about seeing/hearing it played live in its entirety. It was a joyous event, and I went with two friends who loved it every bit as much as I did. I'd almost forgotten how much joy there is to be had from watching one of your favourite bands get up and play.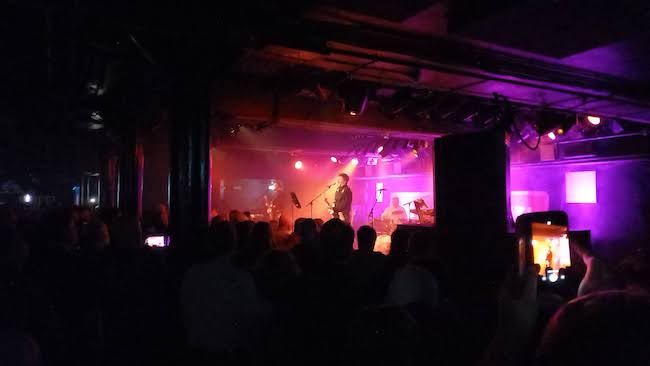 Scritti delivered. The music and the vocals were perfect, and the audience gave the biggest cheers for the hits from the album, such as Absolute, Wood Beez (Pray Like Aretha Franklin), Hypnotize and  the previously mentioned The Word Girl.
I enjoyed support act Alexis Taylor (previously in Hot Chip), and his style of music was a natural fit with Scritti's.
If I was to be nit-picky (it feels like I should, for the purposes of a balanced review), it was that when Scritti came back for the encore, they picked a Chic song that I'd never heard of to perform. I like Chic. But I'd have preferred something else from the Scritti catalogue, such as Overnite, Boom There She Was, Best Thing Ever, or Dr Abernathy. I'm not too familiar with Alexis Taylor's work, apart from Hot Chip, but I believe he has produced a number of fun, quirky, floor filling tunes – but his performance and choice of songs felt strangely low key. I loved Ready for the Floor, and I suspect I'm not the only one who was hoping he would end with that killer tune.
Overall it was a great night out, and I'm delighted that my personal return to live music was in seeing a band who have always excelled at breathing new life into the music scene.
If you would like to see all the concert footage that I took on the night, you can watch it on this YouTube playlist: 
 Personal request: A new Scritti Politti album, please Green…?