I'm a very lucky chap, who has some very nice friends. As a birthday present, those very nice friends treated me to Philip Shelley's One Day Introduction to Screenwriting course. I'd highly recommend it to anybody who wants to learn the craft of screenwriting.
Introduction
There were approximately 50 of us attending the workshop at London's Birkbeck College, which is next door to the University of London's main building (which always reminds me of BBC's The Day of the Triffids, where the still-sighted meet to decide how to live in the changed world).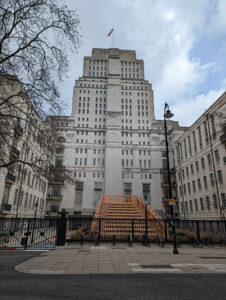 In the morning session, Philip gave an overview of his professional history, his love for finding lecture rooms locked on the day of running a course, the TV programmes and films that inspired him, a 101 of screenwriting, and the mechanics of actually writing a script. Philip is an engaging and welcoming host, who endeavoured to cater for all levels of experience. 
He answered as many questions as time permitted, and covered the all-important dos and don'ts of the craft. One of the areas that got the most discussion time was the requirement for a properly presented script. To paraphrase Philip, if you're trying to make a living out of writing, don't shoot yourself in the foot by submitting a poorly formatted script with lots of typos. We then broke for lunch, hungry but happy.
Dissecting a TV programme
The first part of the afternoon session featured a presentation by Laurence Bowen (CEO and Producer of Dancing Ledge Productions — the team behind the recent BBC hit The Responder, starring Martin Freeman). Laurence talked about the history of the project and the background of its writer Tony Schumacher. He then screened a selection of scenes from episode one and invited us to analyse the depiction of the main character. As a group we talked about our reactions to the scenes and the effect on our viewing experience. 
Laurence raised a particularly interesting aspect of the production. Right at the beginning of episode one, Chris Carson (Freeman) is in a counselling session, and demonstrably struggling with his mental health. The job is clearly destroying him, but he's doing his best to cling on to the once-held aspiration of being 'a good bobby'. Laurence explained that this scene was filmed right at the end of the production, when the team thought that they had the show in the can. They sat down to watch the first episode and felt that something else was needed prior to the original opening scene (where Chris wakes up in his family home, ready for his next night shift) in order to show that this is essentially a good but broken man, and someone who deserves the audience's sympathy. They therefore took the last-minute decision to write and record the counselling scene and make it the new opener. 
It was a good example to illustrate how you should never stop questioning a story to see if it plays out as you imagined. It must have been challenging for the team to try and watch what they thought was a finished production with fresh eyes, and identify how the story could be improved with one small but important scene. I found it interesting on a personal level. I remember watching the trailers for The Responder when it aired and thinking I probably wouldn't like it. A friend (I'm always boasting about my friends aren't I 🙂) recommended it, so I gave it a whirl — and I was grabbed from that opening scene.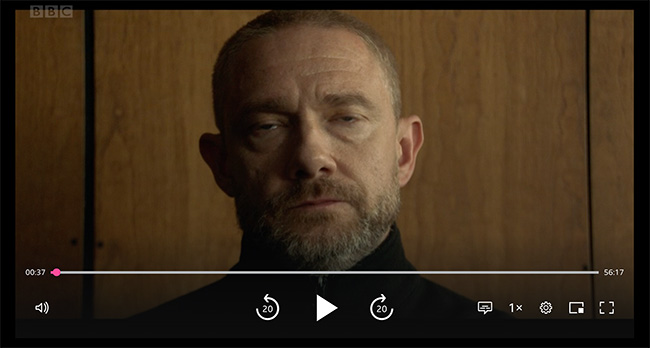 The life of a screenwriter
The final session was with Kitty Percy, an award winning screenwriter and a very generous speaker. She talked us through her career, the day-to-day of her job, and bravely submitted to a Q&A session. We asked her all the questions we could in an hour and half to find out how someone gets to be an award winning screenwriter, what challenges one faces, what compromises have to be made, and what exactly is 'a tight deadline'? (That was one of my questions). 
The answer to that (if you're writing for a genre show for the BBC, for example)  is:
Turning in a detailed script breakdown in two weeks, ie the nuts and bolts of what is going to happen in the story. 

Two weeks later she would submit what essentially is a script but without the dialogue. In other words, it would follow the script format, but would only detail the action. 

Once that has been approved/changes requested,  two weeks later she would submit the 'final' script, including dialogue. 
I asked Kitty if that is the methodology she follows when devising a script for her own (ie non-genre) production. I was interested to know how she approached fleshing out an idea. The answer: Yes. That way, she explained, you can gradually build up the storyline and solve plot problems without wasting time writing dialogue that will never be used. 
The last act
There was more!  The informal bit — networking at the nearby Malborough Arms pub, where Philip had invited some industry professionals to join us so we could pick their brains. Again, having the opportunity to talk to pros about their work, and to talk about ours, was both interesting and inspiring.
So in summary, I'd recommend Philip's course. You gain insight, potential contacts, and a feeling that — if you just keep working at it — you might get your toe in the door and be able to show your magnumopus to someone who can get it made.
Kitty's advice stayed with me: Keep going. Keep writing. Get stuff out there and develop a body of work. Eventually they will find you.
Apologies to anyone if my interpretation of events of the day was different to yours. 🙂
If you're interested in finding out what screenwriting I have done, well I contributed a script to this anthology film, The Haunted Hotel on all the major streaming platforms (Amazon Prime, Google Movies etc).
Or if you're in for an ongoing book series about the consequences of teenagers developing extraordinary abilties, you can read my Class Heroes novels.  You can watch a trailer right here….